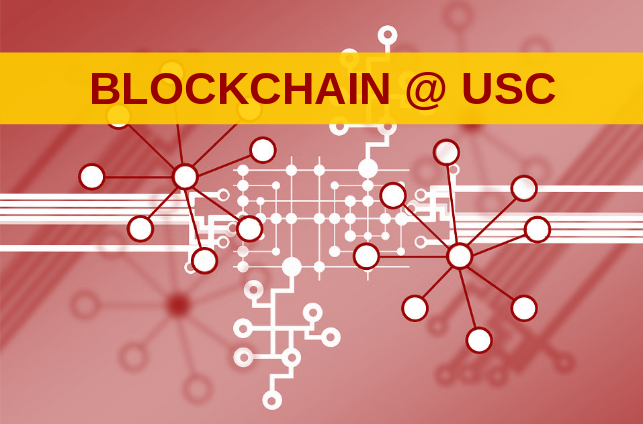 Symposium on Foundations and Blockchain (FAB 2018)
The symposium on blockchain strives to bring researchers and practitioners of blockchain together to share and exchange results. The  symposium will include papers from researchers and practitioners academia and industry. The Symposium is being organized by USC faculty Bhaskar Krishnamachari and Shahram Ghandeharizadeh and will be hosted at USC on March 9, 2018. For more information, please visit the FAB'18 website.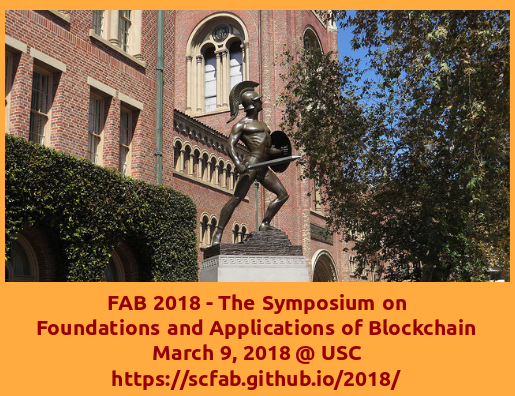 A number of researchers at USC are working on developing the technology and applications of blockchain. These include ongoing efforts at the Viterbi School of Engineering, the Marshall School of Business and Annenberg School for Communication and Journalism.
Blockchain and IoT
The ongoing IoT revolution is connecting various types of devices including various types of sensors and actuators with in-network edge and cloud-based intelligence to understand and control systems in many applications. In many IoT application domains including smart-grid, smart buildings, mobile-health, education, and smart cities, there is a need for trusted interaction between heterogeneous individuals and organizations that can be enabled through both permission-less (public) and permissioned blockchain technologies. Researchers at the USC Viterbi Center for Cyber-Physical Systems and the Internet of Things (CCI) are exploring these applications of blockchain. Further, CCI researchers are also exploring how blockchain-based tokens can be used for micro-transactions providing access to IoT data and for reserving edge computing resources. Finally, CCI researchers are also exploring the use of blockchain-based abstractions to enable trusted distributed middleware and application layer services.
Blockchain and Supplychain
From production to transportation to warehousing to market, supply chain networks have many points where the use of blockchain and distributed ledger technologies can play a helpful role. The USC Marshall Center for Global Supply Chain Management, which works with more than 100 companies across the Globe provides thought-leadership and industry-leading resources, is actively engaged in exploring relevant opportunities in this domain.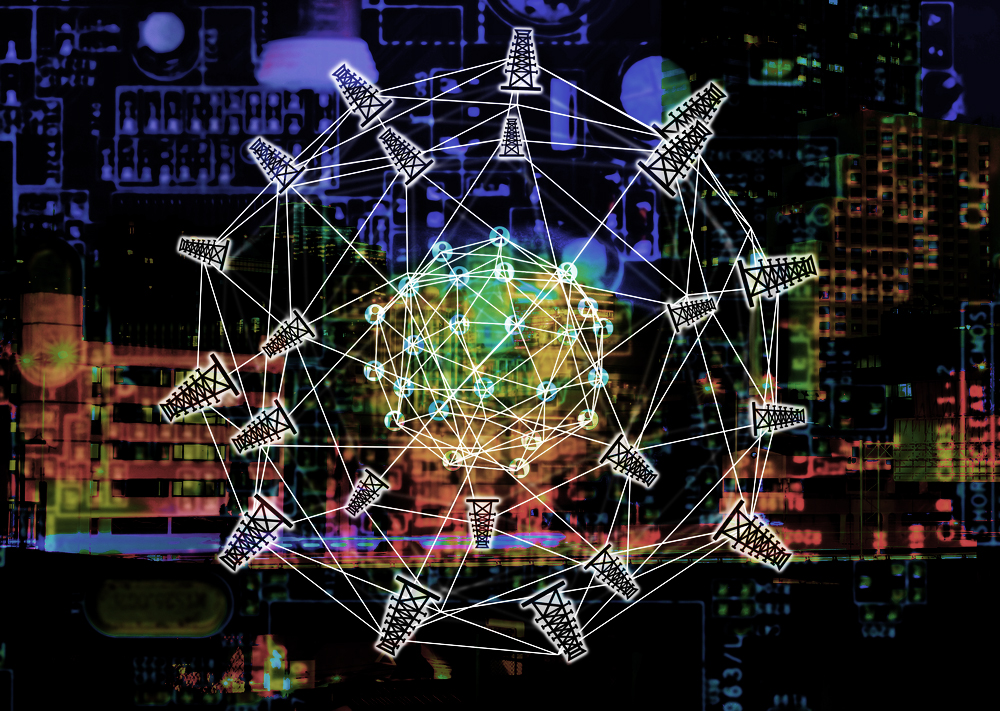 USC Faculty are developing new courses and reading groups to educate our students on this cutting edge technologies and their applications.
ITP 499: Blockchain
This course, launched in Fall 2017 by Prof. Nitin Vasant Kale, provides a general introduction to Blockchain technologies for a broad audience of students across USC.   [Syllabus] [News Article]
Blockchain Research Reading Group
This is a reading and discussion group organized by Prof. Bhaskar Krishnamachari focused on keeping up with the emerging literature on technical computer science and engineering aspects of Blockchain research.  [Reading List]
Blockchain Tutorial
Trojan Blockchain Society
The Trojan Blockchain Society (TBS) covers a wide array of topics under this domain, including the technical and practical components of blockchain and cryptocurrency. Through a mixture of educational meetings, bringing in industry leaders as speakers, and other informational events, TBS seeks to engage and enlighten Trojans on the future and blockchain's impact on it. For more information, please visit the TBS facebook page.
April 18, 2018: Blockchain Technology and its Discontents
Professor Bhaskar Krishnamachari: Blockchain Technology and its Discontents
Thursday, April 12th, 7:30pm-9:00pm
USC, Zumberge Hall (ZHS) – 159
Blockchain and related technologies have created a lot of excitement and there are many innovative ideas in the air to apply them to various domains. Professor Bhaskar Krishnamachari will offer an overview of where the state of the art in terms of technology is and several challenges that remain to be addressed from a technical perspective, including reducing transaction costs, improving transaction volumes, balancing anonymity with AML regulations, reducing price volatility and speculation, increasing software security, interoperability, etc. As food for thought, his presentation will highlight some critical perspectives that argue that blockchains may not be the solution to all the world's problems.
About Professor Bhaskar:
Bhaskar Krishnamachari is Ming Hsieh Faculty Fellow and Professor in Electrical Engineering with a joint appointment in Computer Science at the USC Viterbi School of Engineering. He is the Director of the USC Viterbi Center for Cyber-Physical Systems and the Internet of Things, as well as the Autonomous Networks Research Group. He has co-authored over 300 papers that have been collectively cited over 20,000 times. He is the recipient of the NSF CAREER Award, and the ASEE Terman Award for outstanding EE educators. He was listed in Popular Science Magazine's "Brilliant 10" in 2015, and in the TR-35 list of top 35 innovators under 35 in 2011.
Slides can be found here: https://docs.google.com/presentation/d/1bg5_cCuZMU2PeeQAzrlAzdOMYmvaibCyG_aPw5mOpR0/edit#slide=id.p
April 5, 2018: Banking on Bitcoin, CoinDesk, and Wall Street Journal Event hosted at USC
USC, CCI, the Trojan Blockchain Society, and the LA Blockchain Lab are pleased to host an evening of Everything Blockchain with Michael Casey, Chairman of CoinDesk, Chris Cannucciari, Director of "Banking on Bitcoin," and Paul Vigna, Cryptocurrency Reporter for the Wall Street Journal.
Michael Casey, CoinDesk Chairman
Michael Casey is a Senior Advisor at MIT Media Lab's Digital Currency Initiative, where he heads research into blockchain applications that advance financial inclusion and energy efficiency. He also holds a position as senior lecturer at MIT's Sloan School of Management.
Formerly a journalist at The Wall Street Journal, where he was a reporter, bureau chief, managing editor and eventually a columnist covering global economics, Casey keeps his hand in the media business via a role as Chairman of the Advisory Board at CoinDesk, the leading media outlet and events coordinator for the digital asset and blockchain industry. He is the author of five books, including The Truth Machine: The Blockchain and the Future of Everything, which he recently published with his co-author Paul Vigna. It was a follow-up to a prior collaboration from three years earlier, The Age of Cryptocurrency: How Bitcoin and Digital Money are Challenging the Global Economic Order.
Paul Vigna, "Wall Street Journal"
Paul Vigna is a reporter for The Wall Street Journal, and has been a journalist for more than 25 years, as a reporter, editor, and photographer.
He currently covers the cryptocurrency sector, including bitcoin, other digital currencies, and blockchain-related technologies. He formerly was an equities reporter on the MoneyBeat blog, writing about markets, economics, and finance. He was host of both the MoneyBeat show, a daily live webcast, and the MoneyBeat podcast. He also writes about television and arts, with a weekly recap column for "The Walking Dead."
He has spoken extensively across media, including CNN, CNBC, MSNBC, Fox and Fox Business, and PBS. He has spoken at both South by Southwest and New York Comic Con, and myriad other conferences. He is a frequent guest on podcasts, including Chuck Todd's 1947 Podcast and Barry Ritholtz's Masters in Business.
He is co-author, along with Michael J. Casey, of "The Age of Cryptocurrency" (2015, St. Martin's Press) and "The Truth Machine" (Feb. 27, 2018, St. Martin's Press).
He is also author of "Guts: The Anatomy of The Walking Dead," (October 2017, Dey Street Books).
February 8, 2018: Jon Vlachogiannis give a talk on Proof of Stake: Revolutionizing Blockchain
The big bet of Ethereum, is whether Proof of Stake (PoS) can eliminate Proof of Work (Pow) and provide a more efficient way to achieve distributed consensus. This will lead to a breakthrough, redefining (again) how blockchain applications work, scale and even impact our environment. We'll talk about how PoW works, we'll analyze PoS and it's impact in the blockchain world and how you can start your own node.
Basic understanding of Ethereum and Python is recommended.
Who is Jon Vlachogiannis?
Jon V built the first teleportation device in 4300 and is frequently traveling back in time to talk about things that will change the future. Or the past. During his travels, he builds epic companies, invests in awesome ones and writes code that (sometimes) writes code on its own. You can find him giving presentation at Stanford, United Nations, various tech and startup events and near KOI 7711 – his favorite planet.
Location: KDC 236
December 4, 2017: Nitin Kalé and Bhaskar Krishnamachari present tutorial on Blockchain technologies to Viterbi Faculty and Researchers
November 20, 2017: USC-hosted First Symposium on Foundations and Applications of Blockchain (FAB'18) Announced
The Symposium on Foundations and Applications of Blockchain (FAB'18),  co-organized by USC Viterbi faculty and to be hosted at USC in March 2018, is a new venue for presentation of innovative academic+industry research and work on blockchain.  Long and Short Papers are due December 15, 2017! Please help us spread the word!
November 18, 2017: Blockchain panel at World Funding Summit
November 6, 2017: LA Blockchain lab launched
The LA Blockchain Lab, a partnership with the UCLA Blockchain Lab, and the USC Center for Cyber-Physical Systems and The Internet of Things, is creating a community of blockchain advocates on a mission to increase awareness, advance progress and foster the development of blockchain technology. Members agree to increase civic engagement among all citizens; advance technological progress; link classrooms to burgeoning careers; and foster economic opportunities across Southern California. The Lab's strength comes itself from associated forms of vigorous difference or diversity: they are intellectual, cultural, and economic––to name but three.
November 1, 2017: Blockchain Innovation Night at USC
Blockchain Innovation Night, part of the 2018 Innovation Week at USC hosted industry experts and student researchers in order to discuss and educate those in attendance about blockchain technologies.
October 24, 2017: Trojan Blockchain Society Info Session
The newly formed Trojan Blockchain Society held an information session for USC students interested in Blockchain.
October 16, 2017: Blockchain and Los Angeles - Diversity & Innovation, talk by Heidi Pease at CCI
Heidi Pease, Co-Founder of LA Blockchain Lab & Homesidekick was hosted for a talk at CCI on the current state of Blockchain technologies, applications and the blockchain ecosystem in Los Angeles.
October 13, 2017: Technical Reading Group on Blockchain Research Started
A graduate-level reading and discussion group focused on understanding the engineering elements of blockchain and distributed ledger technologies from a technical perspective, including reading of state of the art research papers related to blockchains (spanning various perspectives: cryptography, network protocols, distribute consensus and network economics) started in USC Viterbi, by Prof. Bhaskar Krishnamachari. It is hoped that this will lead to a graduate seminar on blockchains in the near future. See reading list.
August 21, 2017: ITP 499 Course on Blockchain Launched at USC
Prof. Nitin Vasant Kale started a new course in the Information Technology Program at USC Viterbi, on Blockchain. See syllabus.